My adventure with teaching started back in Poland at Jagiellonian University, where I obtained teaching qualifications. In addition to middle-school and high-school curriculum development and teaching, I was tutoring a student science-club as well as assisting pupils with educational challenges.
I've been leading and developing workshops and classroom activities for K-12 students, e.g., Oakland Summer Camp, SAGE-S (Science Accelerating Girls' Engagement in STEM) Summer Camp, and university students, e.g., Hadron Physics Summer School. As a part of the Berkeley Lab Teaching Scholars Program, I completed 200+ hours of service focusing on Content Development and Facilitation of educational outreach activities.
As a staff scientist at Argonne, I continue my passion for outreach with mentoring and science communication initiatives within the laboratory.
I still can't recover my voice after 6 hours of talking detectors and physics of the #ElectronIonCollider and beyond with the #ArgonneOpenHouse2023 @argonne crowds, but it was totally worth it! I'm absolutely overwhelmed with enthusiasm about becoming a particle detective! pic.twitter.com/ESg7W90xrU

— Dr. Maria Żurek (@mariakzurek) May 21, 2023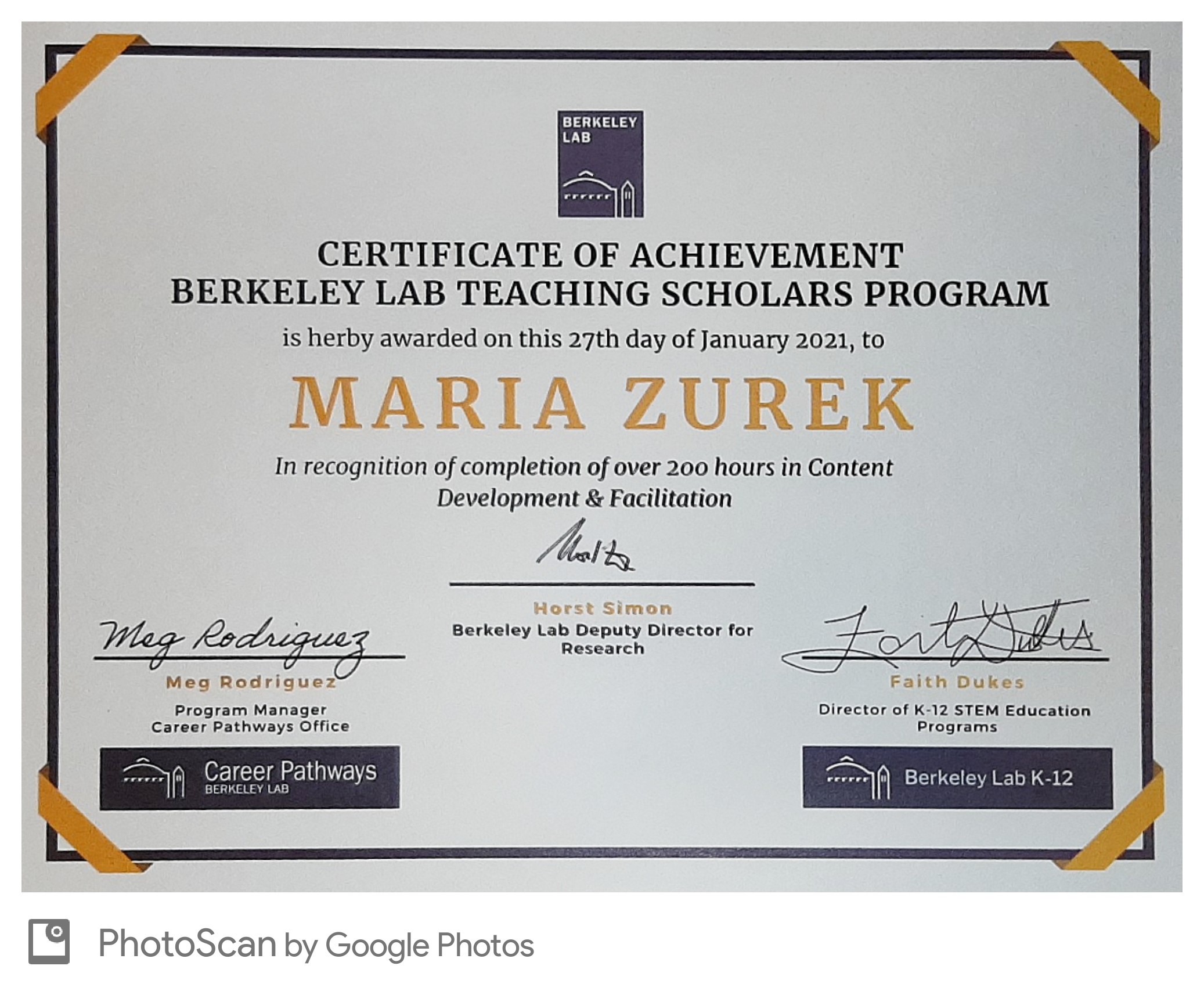 For my mini Twitter STEM series check the following hashtags:
Day 3 of our SAGE-S @BerkeleyLab @SLAClab @LBNLnext online summer camp for high-school students - day full of playing with lasers (pew! pew!) and studying matter with light. So happy our project went (almost) completely smooth! May the light be with you! #LBNLNext #STEMRising pic.twitter.com/70gH4SR5Er

— Dr. Maria Żurek (@mariakzurek) August 6, 2020
What is phenol red used for?🤔 For Science Week at @Oakland's Town Camp, Lab volunteers and students from the #BayArea created a chemical database to identify the unknown substance and received an intro to structural engineering & paper circuits! #LBNLnext @eatlearnplay 👩🏿‍🔬👨🏽‍🔬👩🏻‍🔬 pic.twitter.com/yMYZYT968i

— Berkeley Lab (@BerkeleyLab) August 2, 2019
I was volunteering today at the Family STEAM Night organized by @SAFG_Oakland. It's so motivating seeing kids (and parents) having fun with physics. Scientific Adventures for Girls, you are doing an amazing job! #outreach #GirlsInSTEM pic.twitter.com/2bnYAwU56n

— Dr. Maria Żurek (@mariakzurek) March 22, 2019
I have been also participating in many K-12 mentorship programs related to promoting careers in STEM, e.g.,
POWER-Bay Area: Physical science Opportunities for Womxn in Education and Research.
It was also a great occasion for some small self-reflection. During the #mentoring lunch we were drawing our own career paths staring from high school goals. There were some deviations on my path, but I know one thing, I wouldn't be here if not my undergrad internship mentors.🙏 pic.twitter.com/l6i95TWYfg

— Dr. Maria Żurek (@mariakzurek) May 17, 2019
It was such a great experience to connect with the amazing pupils from @JANorCal and inspiring co-mentors during the S.H.E. Leads Summit 2019. Happy to talk to so many high-school girls interested in STEM fields. #WomenInSTEM #WomenInScience #womenintech #WomenInMedicine pic.twitter.com/4Hpt4EqKek

— Dr. Maria Żurek (@mariakzurek) February 13, 2019
It's the last day of the Adopt-a-Physicist Fall 2018 program. I had a great time discussing with amazing students from @MonroviaNews and @victoryechs about physics and my career as a physicist. We've written almost 60 posts during these 3 weeks! https://t.co/R5jcEV19QI 👩‍🔬👨‍🏫👨‍🎓 pic.twitter.com/kkoEFDymut

— Dr. Maria Żurek (@mariakzurek) November 1, 2018